Applications close
14 June 2023
Announced
28 September 2023
Prize money
AUD $45,000
Location
VIC, Australia
Will you enter this prize?
This is an anonymous survey
I will enter this prize
Undo
6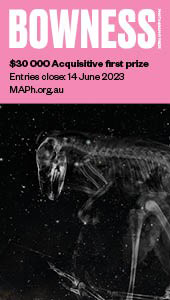 Over the last 17 years, the William and Winifred Bowness Photography Prize has emerged as an important annual survey of contemporary photographic practice in Australia and one of the most prestigious prizes in the country. MAPh invites artists to submit still photo-based media including analogue and digital photography created over the last year for consideration.
Prizes: ·
The winning work will be awarded $30,000 and will be acquired into MAPh's nationally significant collection of Australian photographs.
One artist will also be selected for the $10,000 Wai Tang Commissioning Award which will coincide with the 2024 Bowness Photography Prize exhibition season. ·
The Smith & Singer People's Choice Award will be voted by the public with the recipient receiving $5,000. ·
Three Colour Factory Honourable Mentions will be awarded by the judges with each recipient received a $500 printing voucher.
Venue: Museum of Australian Photography, Melbourne, VIC
Contact: for more information e: bowness@monash.vic.gov.au
Banner image: 2022 winner Amos Gebhardt
Summary
Application dates
3 May 2023 - 14 June 2023
Exhibition dates
21 September 2023 - 12 November 2023
Finalists notified
27 July 2023
Eligibility
National Entries
Prize frequency
Annual
Judges
To be announced
Prize genre
Photography
Location
Museum of Australian Photography, Melbourne, VIC
VIC
Australia
Prizes
AUD $45,000
Fees
$55.00 per entry
Last updated
1 June 2023
Prior Winners
2022: Amos Gebhardt - Winner ($30,000)
2022: Paula Mahoney - Wai Tang Commissioning Award ($10,000)
2021: Lililian O'Neil - Winner ($30,000)
2020: Christian Thompson - Winner ($30,000)
2019: Katrin Koenning - Winner ($30,000)
2018: Hoda Afshar - Winner ($30,000)
2017: Nasim Nasr - People's Choice ($5,000)
2017: Polixeni Papapetrou - Winner ($30,000)
2016: Dasha Reiley - People's Choice ($1,000)
2016: Valerie Sparks - Winner ($25,000)
2015: Joseph McGlennon - Winner ($25,000)
2014: Petrina Hicks - Winner ($25,000)
2013: Pat Brassington - Winner ($25,000)