Applications close
1 February 2022
Announced
29 April 2022
Prize money
AUD $20,000
Location
VIC, Australia
Will you enter this prize?
This is an anonymous survey
I will enter this prize
Undo
12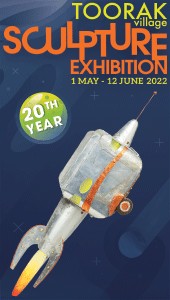 2022 will be the 20th year (started in 2002 by Ken Scarlett OAM) of the exhibition where Australian artists will display their sculptures in Toorak Village shop windows, arcades and along the sidewalks of Toorak Road. These will compliment the 11 permanent sculptures purchased by the Toorak Village businesses from previous shows. Presented by the Toorak Village Traders, curated by Malcolm Thomson and proudly supported by Stonnington Council, Vicland and other businesses partners.
2022 AWARDS
This year, sculptures will be viewed and judged by Dr Ken Wach – Associate Professor and former Principal Research Fellow and Head of the School of Creative Arts at The University of Melbourne, where he taught art history for thirty-five years, a commentator & writer.
$20,0000 total non-acquisitive Artist Awards will be presented to 5 artists at an invitation only Opening Night event in Toorak Village.
$10,000 Vicland Award;
$5,000 TVTA Award;
$2,000 TVTA Award
$2,000 Judges Encouragement Award;
$1,000 TV Traders Choice Award
Summary
Application dates
1 November 2021 - 1 February 2022
Exhibition dates
1 May 2022 - 12 June 2022
Finalists notified
31 March 2022
Eligibility
National Entries
Prize frequency
Annual
Judges
Dr Ken Wach
Prize genre
Sculpture
Location
Toorak Village, Toorak Road, Toorak, Melbourne
VIC
Australia
Prizes
AUD $20,000
Fees
There is an entry fee of $35 per entry and a 33% commission on sales.
Last updated
5 May 2022
Prior Winners
2022: Anne Anderson - Winner ($10,000)
2019: Taro Iiyama - Winner ($10,000)
2018: Marynes Avila - Winner ($5,000)
2017: Craig MacDonald - Toorak Village Traders Award ($5,000)
2016: Louis Pratt - Winner ($5,000)
2015: Amy Kennedy - Winner ($5,000)
2014: Owen Hammond - Winner ($5,000)
2013: Timothea Jewell - Winner ($5,000)
2012: Adrian Spurr - Winner ($10,000)
2012: Sarah Field - Toorak Village Traders Award ($1,000)