Applications close
5 June 2015
Announced
20 August 2015
Prize money
AUD $6,000
Location
VIC, Australia
Will you enter this prize?
This is an anonymous survey
I will enter this prize
Undo
0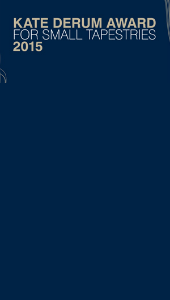 The Australian Tapestry Workshop Kate Derum award has been established to honour Kate's memory and her significant contribution to tapestry.
The award is open to all professional Australian and International tapestry artists. Finalists will be invited to submit a tapestry for display in an exhibition at the Australian tapestry workshop from 20 August – 25 September 2015. This award is generously supported by Susan Morgan, and Alayne and Alan Davies through the Tapestry Foundation of Australia.
Summary
Applications close
5 June 2015
Exhibition dates
20 August - 25 September 2015
Finalists notified
29 June 2015
Eligibility
National and International Entries Allowed
Prize frequency
Biennial - Odd Years
Judges
Prof Kay Lawrence member of ATW Board of Directors; Tony Preston, Founding Director, Christchurch Art Gallery; Valerie Kirk, Head of Textiles, ANU.?
Prize genre
Textiles
Location
Australian Tapestry Workshop, 262-266 Park Street, South Melbourne, VIC 3205
VIC
Australia
Prizes
AUD $6,000
Fees
Ther are no fees.
Last updated
22 March 2015
Prior Winners
2015: Marilyn Rea-Menzies - Winner ($6,000)