Applications close
10 July 2021
Announced
17 September 2021
Prize money
AUD $37,000
Location
NSW, Australia
Will you enter this prize?
This is an anonymous survey
I will enter this prize
Undo
12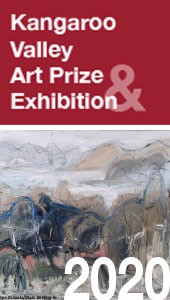 Sculpture in the Valley presents a biennial exhibition of inspiring sculptural works set in the beautiful escarpment surrounds of Kangaroo Valley. The exhibition offers an intimate rural setting and expansive valley views for outdoor sculpture and a professional exhibition space for indoor sculpture works. In 2021 the exhibition will be held at the beautiful property Graystone Grange, Kangaroo Valley Road, Bellawongarah. The exhibition will run over two weekends, with the exhibition dates being Saturday 25th - Sunday 26th September & Friday 1st - Monday 4th October.
In 2021 the total prize money for the exhibition has increased to $37,000 with the 1st Prize Sculpture prize being $20,000. Applications are now open and close on July 10th. Graystone Grange site offers both an intimate rural setting and expansive Kangaroo Valley views for the outdoor sculpture. Sculpture in the Valley 2021 will also present an indoor exhibition of small indoor works. Returning as Director of Sculpture in the Valley 2021 is Colleen Fry. This year the exhibition welcomes renowned artist David Ball as the exhibition curator. Judges for the prizes are yet to be announced. Sculpture in the Valley is part of the not-for-profit organisation Arts in the Valley also known as the Kangaroo Valley Arts Festival.
Prizes:
Outdoor Sculpture Prize: $20,000,
Indoor Sculpture Prize: $10,000
Outdoor People's Choice $3,000.
Indoor People's Choice $2,000.
Highly Commended $2,000.
Join our Artist mailing list at www.artsinthevalley.new.au/visualarts.
Full details for entering at www.artsinthevalley.net.au/applications.
Summary
Application dates
23 April 2021 - 10 July 2021
Exhibition dates
17 September 2021 - 5 October 2021
Finalists notified
30 July 2021
Eligibility
National Entries
Prize frequency
Biennial - Even Years
Judges
Curator: Jane Cush – former Director, Goulburn Regional Art Gallery Judges: Brenda May, May Space, formerly Brenda May Gallery, Sydney & Damien Minton, Damien Minton Gallery, formerly manager Watters and Hughes Galleries, Sydney
Prize genre
2D works
Location
Kangaroo Valley Hall Art Gallery, Kangaroo Valley, NSW
NSW
Australia
Prizes
AUD $37,000
Fees
Entry fee $30/work (max 2 works); Commission 25%
Last updated
12 May 2021
Prior Winners
No prize winners information available