Applications close
28 March 2023
Announced
16 April 2023
Prize money
AUD $3,000
Location
NSW, Australia
Will you enter this prize?
This is an anonymous survey
I will enter this prize
Undo
1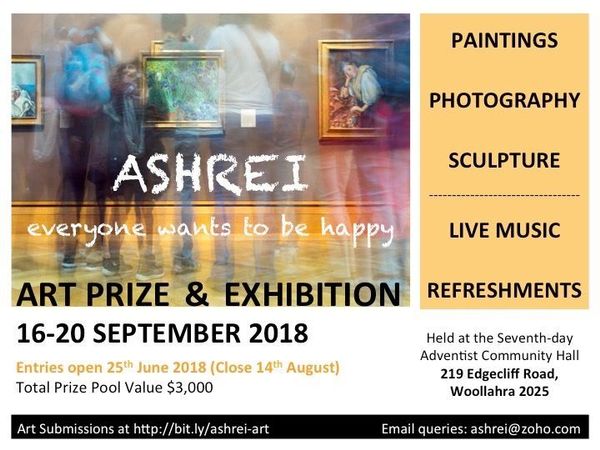 ASHREI is a Hebrew word meaning Happy or Blessed. Studies have shown that happiness is encouraged by "whole person" wellness, which encompasses various Dimensions, such as the: 1) Physical, 2) Social, 3) Emotional, 4) Spiritual, 5) Intellectual, 6) Environmental and 7) Vocational, aspects of life.
The overall theme of the ASHREI art prize & exhibition will cover the 7 Dimensions as Categories for art submissions. Further details of the 7 dimensions of wellness are provided in the e-form.
The Main Prize Categories include: - 1st prize - People's Choice Award - Aboriginal & Torres Strait Islander Award - Children's Prize
Venue: 219 Edgecliff Road Woollahra 2025
Contact: ashrei@zoho.com
Summary
Application dates
1 March 2023 - 28 March 2023
Exhibition dates
14 April 2023 - 20 April 2023
Finalists notified
31 March 2023
Eligibility
National Entries
Prize frequency
Annual
Judges
Christina Rogers (commission artist & art teacher) Rachel Adler (art teacher) Helena Lillywhite (sculptor & artist)
Prize genre
General
Location
219 Edgecliff Road, Woollahra, NSW
NSW
Australia
Prizes
AUD $3,000
Fees
$25 entry fee for adults, $5 for children. 10% commission on sold artworks
Last updated
16 March 2023
Prior Winners
No prize winners information available